Hurricane Harvey's Lucky Eleven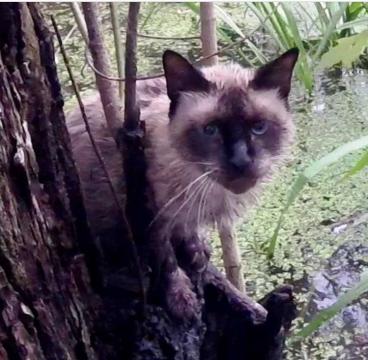 Whiskers' focus has always been on rescuing cats and kittens in need in the Capital District of New York. However, when Hurricane Harvey hit there were tens of thousands of animals in need and the shelters in the affected areas were beyond overwhelmed so they started to reach out across the country for help. Although the shelter and foster homes at Whiskers were full, we knew we needed to do something to help these animals. We put out a plea for temporary foster homes and our wonderful volunteers and social media fans stepped up. Due to their generosity, we were able to take in eleven cats and kittens from the area affected by Hurricane Harvey. Ten of the eleven cats were already in shelters and up for adoption before the hurricane hit. Shelters needed to evacuate these animals to make room for all of the animals who would be left lost and homeless after the storm. The ten lucky ones were Bagheera, Cobalt, Blackberry, Raguso, Delilah, Stephanie, Boots (renamed Magnolia), Midnight (renamed Gumbo), Sensei and Kahleesi. The cat you see pictured here is Chomper and he was rescued from the flood waters in Louisiana. He spent at least four days trapped in a tree surrounded by flood waters before rescuers could get to him. Once he was safely rescued they found he had a microchip. The shelter held Chomper for one month while they and the microchip company reached out to the owner via phone, email and Facebook, but the owner did not respond. After a month of failed attempts, he was placed up for adoption and brought to New York to Whiskers.
SPONSOR US!
While most of these cats and kittens were not directly rescued from the storm, being able to take them out of the shelters in the south allowed ten more cats like Chompers to be brought in to safety. A video of Chomper's rescue is on
YouTube
Please click here to sponsor this special group of lucky cats and kittens.