Lost and Found Pets
Instructions
To post your own ad for a lost or found pet, you must first create an account and login.
You may post a reply to someone's ad without logging in.
Click here to create an account.
Please do not use this page to post animals looking for a new home.

I found a tabby cat with green eyes, possibly...

Found a white domestic shorthair in my backyard...

Tiny (baby) tuxedo kitten has shown up in our...

two different colored front legs--one orange and...

Bug is an 8 year old Brown Tabby with Black...

White cat with gray patches wearing a silver/gray...
My baby Harpua didn't come home Thursday...

ATTENTION EVERYONE IN BETHLEHEM: My mom's...

he is the cat in the front of the photo. On 5/26/...

Grey Maine coon. His name is Da-tou(big head)....
Winston is a medium size Grey Male Tabby, only...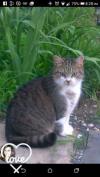 Spaz is a petite spayed tabby. She is grey/ brown...