LOST - orange tiger, Oscar, Boght Corners area
Picture: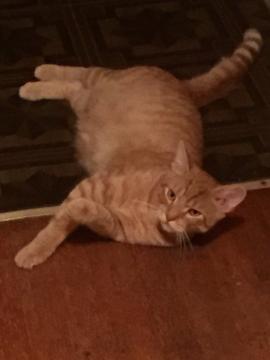 Detailed Description:
2017, not 2016. 1-yr old male orange shorthair tiger/tabby cat with very distinct striped tail. Big, about 14-15 lbs. Long body,smallish head. jiggly belly when he runs. Gold eyes, small scar from a scuffle with another of my cats on left ear. Friendly with people, but can be aggressive with other cats. Answers to Oscar, Kitty Boy. Voracious eater, loves yogurt.
Street Lost:
Renas Drive/Boght Rd area
City/Town Lost:
Cohoes address, Town of Colonie, near soccer fields
Phone Number:
518-496-7870
Email:
kcolman@nycap.rr.com