Lovey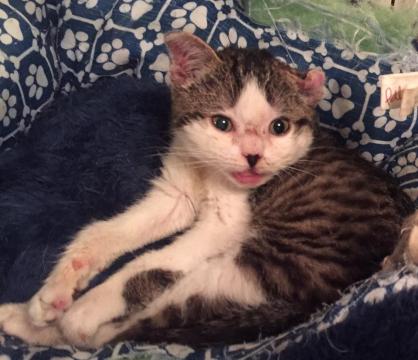 This sweet little girl, named Lovey, was rescued by a young man who had the right sense to get her out of the situation she was in. He knew something was wrong with her and that he needed to do something. He brought her home to his mom who found Whiskers to help.
We are far from a happy ending. She went directly to the vet who found her jaw was broken in three places. It seems to be an injury from a few weeks ago and had begun healing. At this point (October 21, 2016), we are waiting to hear back from Tufts to see if we can get an emergency appointment to have her assessed and, hopefully, put back together.
She can't open her mouth much, but can manage to eat. However, this likely won't last long. As she grows, due to her injury, her jaw will not. She may lose the ability to eat. She has a long road ahead. You may also notice that her left ear is deformed. It had a huge abscess that ruptured shortly after Whiskers took her in.
This poor thing has been though a lot and we will probably never know how she got so beat up. Yes despite all she's been through she is a sweet, loving and playful little kitten. Whiskers is one of the few places that will take in and try to heal a kitten with injuries this severe. Had this kitty not ended up at Whiskers she likely would've been euthanized. Whiskers will stand by their rescues and get them any care they need, even if it costs thousands of dollars to save just one kitty.
Any donations to support this sweet kitten will he graciously accepted. We will post updates on her condition as she receives continuted medical care.
Lovey is doing great and was adopted by her foster mom.