Melania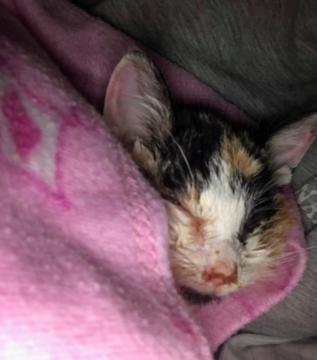 Melania was one of 29 cats rescued when police raided a horrific situation in Johnstown where a woman was charged with animal cruelty. Whiskers was one of the rescues that offered help for the surviving kittens. We took Melania and six other sick and malnourished kittens into foster care. Melania was critically ill and had to be brought to the emergency animal hospital for life-saving treatment. She had severe eye and upper respiratory infections, was grossly underweight, could not maintain her body temperature or proper glucose levels, and was unable to eat on her own. Melania remained in the emergency hospital for an entire week battling for her life.
Melania is now continuing her recovery in her foster home, but her treatment cost over $4,000 and Whiskers needs your help to pay her expenses. Please consider sponsoring this adorable kitten. Your generous donation is tax deductable.
Click HERE to see Melania's YouTube video taken on her first day out of the hospital.