Otis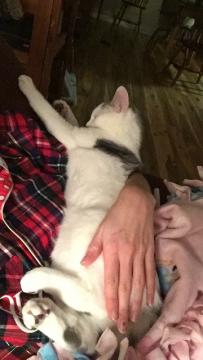 Otis was born to a family of four boys. The kittens and their mom lived behind a row of restaurants where they would beg for a meal each day. Then around 6 weeks old they went missing for several weeks. When they reappeared a volunteer trapped all 4 kittens and their mom. All went to foster homes.
Otis loved his foster mom's Christmas tree and he enjoyed hanging out in the branches. One day when jumping from the Christmas tree Otis injured himself. He couldn't walk or bear weight on either of his hind legs so his foster mom took him to the emergency clinic and then eventually to the regular vet when he wasn't getting better. After X-rays and blood work were taken it was discovered that he actually was born with bilateral medical luxating patella.
He has trouble sitting and was home on pain medication until he could have surgery. He has to have each leg repaired and he can only have one done at a time. He loves to be held like a baby and snuggles with his foster mom's other cats. Otis just had his first of two surgeries in January 2017 and because of his wonderful foster, two surgeries and the mission of Whiskers, Otis will heal and be able to walk again. Please consider sponsoring this special boy.