Whiskers has a Problem and We Need Your Help
We are a no-kill shelter that gives sanctuary to older cats, feral cats, disabled cats, black cats, white cats, cute cats, and crabby cats – any cat in need. Each year we provide shelter, food, and medical services for the adult cats in our facility. We can house about 130 cats and, with adoptions and intake, we provide a home to more than 200 adult cats a year.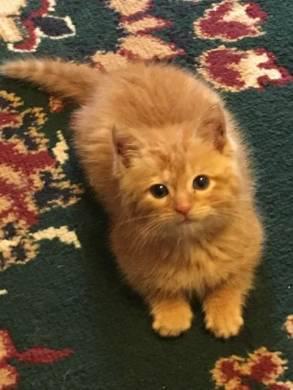 Weeble: so cute and so in need of care
In addition, our foster program handles more than 300 kittens each year. Each kitten costs us about $175 for exam, immunizations, and spay/neuter services. That's a minimum outlay of $52,500 for just the kittens! We charge an adoption fee, but it doesn't cover all the costs, especially if there is a kitten with a disability like Weeble. This little sweetheart was born with a chest deformity and cerebellar hypoplasia. He will need more than normal medical care and a special loving home. Whiskers won't take the easy way out; he will have a chance at life and a loving home.
Whiskers has been helping cats for more than 35 years in the Capital Region. We are a not-for-profit 501(c)3, all-volunteer rescue group. No salaries or perks for our humans; the donations we receive go to the care of our cats.
But as we said, Whiskers has a problem. We are running low on funds to keep our sanctuary open and our foster program funded. We need your help to keep providing these services that are unique in our area.
Can we count on you to help us in our time of need? If you share our feeling of compassion toward all living things, please make a donation now. Donate NOW. We thank you in advance for your generosity.