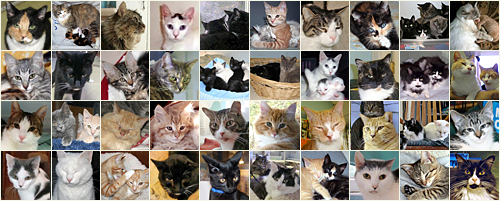 Making a Difference for Over 30 Years!
The gift of life is wrapped in your support... Thank you from all of us.
The story of Whiskers Animal Benevolent League began in 1982 in an antique store on Delaware Avenue, owned and operated by the late Joan Duer, an avid animal lover who was deeply concerned about the proliferation of stray cats and kittens in the City of Albany. In an effort to combat this growing problem, and to provide aid for cats and kittens in need of good, safe homes, Joan opened the Whiskers Thrift Store – with all proceeds from its sales going to finance the cost of spaying and neutering stray animals and providing them with shelter.
From this small, one-woman crusade, Whiskers Animal Benevolent League – which also sought to find foster and permanent homes for stray dogs in its early years – went forward to open a shelter for abandoned, abused, sick and feral cats and kittens, adhering to a strict no-kill philosophy. The life of every animal who passed through the doors of Whiskers was considered precious, and that policy, above all, continues to guide the work of Whiskers Animal Benevolent League 30 years later.
The Whiskers shelter itself, while it has been located in various storefronts, apartments, and other sites throughout the City of Albany in the years since its founding, has grown tremendously. In addition to the shelter itself, Whiskers operates a thriving foster parent program to provide care for pregnant mom cats and kittens until they are able to secure permanent homes, which are often found through the Whiskers Adoption Center housed in the Clifton Park Petsmart store. Also, Whiskers foster parents and other volunteers often take older cats, those with health challenges, and kitties who may be too shy to adopt out to the general public into their homes.
Over the years, Whiskers has been, and continues to be, unique among many other cat shelters in the region.
First of all, we are an all-volunteer group: every penny donated to our organization is directed to the welfare of our cats and kittens. As a private shelter, we do not receive government funding, and rely on our friends and supporters to help us advance our work. The people who clean our shelter twice each day, administer medications, provide maintenance services, staff our adoption center, and provide foster homes for our kitties donate their time and energy without any compensation apart from the joy they find in caring for our Whiskers cats.
Second, as a strictly no-kill shelter, Whiskers provides a safe, loving, sanctuary for cats who are chronically ill, diagnosed with FIV and FeLV, feral, very old, abused, or otherwise not considered easily adoptable to the general public. While we believe that virtually all of our cats are adoptable to the right person, the fact of the matter is that some of our cats will live out their entire lives in safety and comfort in our shelter. Many others will go on to find safe, loving homes with the assistance of our dedicated and knowledgeable adoption counselors.
Third, unlike many other shelters, Whiskers is a free-roaming facility, with almost all of our cats loose and uncaged, unless they are ill or new to the shelter.
As Whiskers Animal Benevolent League enters its fourth decade of providing care and aid for homeless cats and kittens throughout the Capital District, we are grateful for the dedication of our volunteers, those who support us with their generous donations, and many others who assist us in continuing our important mission day by day, and we are looking forward to the years to come, and the kitties to come!